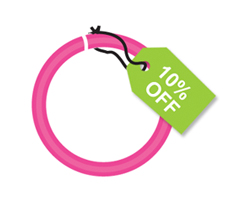 Blue Buddha Discount Programs
We offer several discount programs to meet the needs of a wide variety of maillers. Whether you are a hobbiest getting rings for a few different projects, a designer stocking up to complete an order, or a store looking to sell our product, we have a program that will meet your needs.

---

Buy More, Save More Discount (Automatic)

Mix and match across hundreds of items to save money - the more you buy, the more you save! Our Buy More, Save More discount applies to the following metals:
aluminum
anodized aluminum
bronze
copper
enameled copper
jewelry brass
rubber rings
stainless steel
niobium
Mix 'n' match packs of 250 or 1,000 rings* in the metals listed above to enjoy the following "Buy More, Save More" discounts:
1-5 Packs - regular price
6-15 Packs - 10% off
16-25 packs - 15% off
26-35 packs - 20% off
36-49 - 25% off
50+ - 30%
* Note: for larger AA sizes such as T14 and X12, the discount is applied to the largest pack size available.
* Niobium: I16-N16 100 packs qualify
Just look for this symbol and start saving today! Savings are automatically applied as you add items to your cart.
---