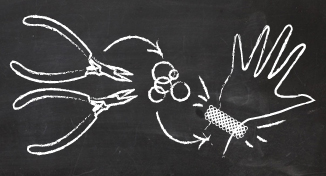 Meet Your Teachers
We pride ourselves on providing outstanding instruction, a friendly and encouraging classroom vibe and beautiful projects and that all starts with our teachers. Blue Buddha Boutique teachers are not only chainmaille experts and enthusiasts themselves, but highly trained to teach in the "B3 style", so you can expect consistent, clear instruction across the board and a fun and successful class experience every time!
---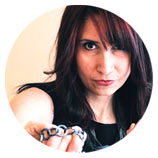 Rebeca Mojica
Chainmaille Jewelry Instructor, Blue Buddha Founder

Rebeca Mojica, founder of Blue Buddha Boutique, is an award-winning chainmaille artist and author of the best-selling book "Chained: Create Gorgeous Chain Mail Jewelry One Ring at a Time." She is considered a pioneer and one of the top experts in the industry. At current count, she knows 100+ weaves, including more than a dozen patterns of her own creation. Since 2002, she has spent more than 1,000 hours teaching students from around the world. Her projects have appeared in numerous books and magazines, but her favorite instructions are those she creates for Blue Buddha Boutique (particularly the "lefty" instructions, which are so graciously appreciated by left-handed students!).
"I love to teach because it is so rewarding to give people the gift of creation. To take a student from the stage in which they have no idea what is going on, and they've got that deer-in-the-headlights look, to a point where all of a sudden they understand the pattern and find their rhythm, is just amazing. Their entire face and body language changes. They relax and smile and are absolutely thrilled that they are able to make something beautiful with their own two hands, something that was a mystery a mere hour prior. I love those moments, and I'm honored so many people have chosen to spend their afternoons with me learning to craft beauty"
To learn more about Rebeca, please visit her website at rebecamojica.com.
---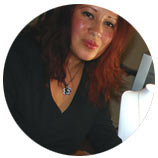 Kat Wisniewski
Chainmaille Jewelry Instructor, Curriculum Director

Kat Wisniewski of Elemental Art Jewelry is an innovative jewelry artist and attire designer specializing in glass chainmaille designs. Kat also enjoys teaching chainmaille & wirework, as she has done professionally since 2005 throughout the Chicagoland area, and also at the internationally recognized Bead&Button Show. Having invented about 11 weaves and chainmaille patterns featuring stylish glass and rubber rings, Kat has rapidly become a well-respected and nationally known expert in the field of modern chainmaille fashion.
"Yes, my students leave class, helplessly & utterly, addicted to chainmaille! I am continually rewarded by knowing I've facilitated a learning experience that is fun, constructive & exceptional."
"Being supportive, while maintaining a challenging atmosphere, best describes my teaching method, as I tailor each lesson to every student's strengths & needs. When I see how quickly my students can work independently and how enthusiastic they are about the product they create, then I know I've done my job well."
"It is gratifying to continue to hear from my students that I am patient, a great demonstrator and an excellent teacher. I've been teaching wirework and chainmaille for about 9 years throughout the Chicagoland area, have published 11 chainmaille projects over the past 5 years, and have run my own jewelry design company since 2005. This experience and love of chainmaille has allowed me to grow to become a nationally known expert in this field."
To learn more about Kat, please visit her website at ElementalArtJewelry.com
---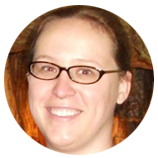 Carrie Kempf
Chainmaille Jewelry Instructor

Carrie was first bitten by the chainmaille bug back in 2008 with her first class with Rebeca, and she has been weaving ever since. After running a few Make and Take sessions for Blue Buddha at the Bead and Button show, she is excited to expand her teaching experience to full size classes! In her spare time when she isn't making chainmaille, she enjoys making glass tile mosaics, ceramics, sewing, knitting, crochet, and just about any other crafty type project she can get her hands on. She also loves a good boardgame; particularly Eurogames (Catan and Puerto Rico especially).
---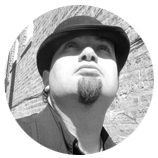 Omni Mee
Chainmaille Jewelry Instructor

Omni is a celebrated and award-winning jewelry designer. He taught himself how to make chainmaille in 2004, and has been pushing his limits to what chainmaille can be ever since. Omni became a B3 designer in 2002 and is looking forward to sharing his knowledge and passion for jewelry as a teacher.
---
Darlene Ostrowski
Chainmaille Jewelry Instructor

Darlene stumbled into a Blue Buddha chainmaille class years ago at Lillstreet Art Center. Mainly seeking a creative outlet to help relieve work stress, she wasn't expecting to find herself hopelessly hooked on this art form! She believes that we all need more opportunities to make art with our own two hands and swears that linking all those tiny rings together actually keeps her (relatively) sane. A born-and-raised Chicagoan, she enjoys making jewelry with skulls, bats, spiders, and other creepy things, and owns a goth chainmaille company, Do Bats Eat Cats. She frequently vends at craft shows and science fiction/fantasy cons, and looks forward to creating many new chainmaille addicts.
To learn more about Darlene, please visit her website at Do Bats Eat Cats.
---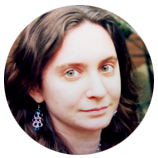 Rebecca Rudaski
Chainmaille Jewelry Instructor

When Rebecca Rudaski picked up an inexpensive wire jig at a local craft shop/pharmacy in 2005, she fell in love with the versatility of metal in jewelry designs. After years of having customers of her jewelry business, Wirefly Jewelry, tell her that her wirework looked like chainmail, she bought two pounds of rings and tried her hand at it, never looking back.
She now shares her addiction through teaching, mostly in the Chicago/Milwaukee area, hosting small parties at local bead shops, church groups, and working for the Girl Scouts of Southeast Wisconsin. She has also taught at the JOGS show in Tucson, AZ. Rebecca also writes wirework patterns for Wire-Sculpture.com.
---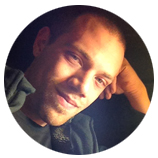 Dan Rychtarik
Chainmaille Jewelry Instructor

Dan is a Chicagoland native. Being relatively new to the world of chainmaille, Dan has taken the metaphoric bull by the horns. In the beginning it was good. He was given the chance of an apprenticeship under a better mailler than himself. From then on, little did he know, his life was going to take a turn for the best. Now Dan and his tutor share the same chainmaille shop at the Bristol Renaissance Fair. Dan would say his best chainmaille work is done with anodized aluminum and rubber rings, which can be seen in all their glory on his website When Rings Dream.
Some of Dan's other hobbies and passions are fire spinning for the Chicago Fire Tribe, Tae Kwon Do, Welding, Paintball, Spray Paint Art and The Rubik's Cube. And he couldn't be more excited to become a member of the Blue Buddha team.
To learn more about Dan, please visit his website at When Rings Dream.
---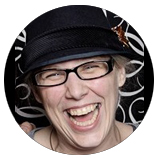 Lisa Smeltzer
Chainmaille Jewelry Instructor

In 2004, Lisa was searching for a way to be creative again. On a break from work, she was browsing through a class catalog and came across Rebeca Mojica's 4-week chainmaille class. It made her sit up and pay attention. She immediately hopped on the phone to register and in her first class, she fell in love. After leading B3's Make-n-Take table at the DIY trunk show in 2011, she learned that she loved to teaching chainmaille as much as she loved making it.
"I love seeing the smile as a pattern just clicks in a student. I love when mistakes become a moment of discovery. I love how total strangers can bond over their new shiny creations after just a few minutes of sitting together. I just love being part of the excitement that comes with creating."
---
Guest Instructors
We have had the pleasure of hosting classes led by expert instructors in a variety of artistic genres. These talented folks are among those you might find on our roster periodically.
---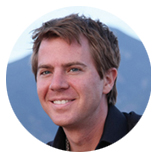 Scott David Plumlee
Chainmaille Artist, Author, Guest Instructor

Author and jewelry educator Scott David Plumlee has been inspiring a new generation of chain jewelers for the past decade, leading more than 150 workshops nationwide. Plumlee is the author of Handcrafting Chain and Bead Jewelry, a bestseller in its category that has retailed more than 30,000 copies since July 2006.
Scott is a world traveler who receives inspirtation from his exploration of ancient craft designs while trekking throughout 32 countries and four continents. He currently resides in the enchanted foothills of sunny Taos, New Mexico.
In the end, I keep the love strong by always considering myself a hobbyist, no matter how advanced I get. That thought allows me to still have fun and make mistakes. Its through playing around and making mistakes that I create my best pieces. As Bob Ross would say, "Happy accidents."
Visit his website at DavidChain.com.


Photos are copyright Scott David Plumlee and used with permission.
---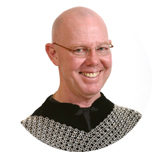 Loren Damewood
Chainmaille Artist, Guest Instructor

Loren Damewood has been creating intricate decorative knots in precious metal for over 25 years, and recently retired from a career in the aerospace industry ("Not exactly rocket science... more like rocket tech.") to teach workshops on his methods full time. He taught himself the techniques he uses, by trial and error, and delights in helping others to bypass the painful and tedious stages and go right to the shiny stuff.
He usually works in 18K gold, and is primarily interested in the possibilities inherent in the ancient Turk's Head knot. There are so many combinations available within the general pattern that he doesn't ever expect to run out of challenging projects.
Visit his website at Golden-Knots.com


Photos are copyright Loren Damewood and used with permission.
---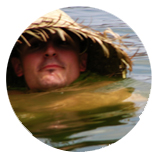 Joshua Diliberto
Chainmaille Artist, Guest Instructor

Joshua has been making chainmaille for 18 years and considers himself lucky to be able to make chainmaille for a living. He enjoys teaching chainmaille and inspiring others. His specialty is creating new weaves and creating new applications for chainmaille. To date, he has 56 original documented weaves in the Maille Artisans International League database.
"I'm passionate about what I do, but I'm also a very calm and laid back person. I am a very open and easy to talk to. I consider my knowledge to be everyone elses knowledge. I think it's an exciting time for the art of chainmaille - some really awesome work is being done and I'm thrilled to pass on what I've learned so far."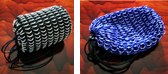 Photos are copyright Joshua Diliberto and used with permission.
---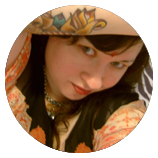 Aimee Leang
Wirework Artist, Guest Instructor

Aimee Leang's jewelry making obsession began at her first summer job working for Gallery 37's jewelry making program. After that Aimee's Mom gave her a set of tools and her creativity took off. Aimee is well versed in the skills of wire-wrapping, metalsmithing and lapidary. Always having a thirst for knowledge, she looks forward to continue increasing her knowledge in the chainmaille arts and more.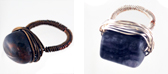 Photos are copyright Aimee Leang and used with permission.
---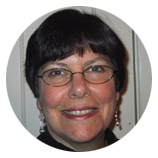 Stephanie Riger
Chainmaille Artist, Guest Instructor

Stephanie Riger is an award winning designer whose work has appeared in national magazines and juried art fairs. For Stephanie, beadwork is serious play, losing herself in arranging and rearranging beads until they fit together with harmony to make one-of-a-kind necklaces, earrings, and bracelets. She makes all items herself and is happy to custom design.
She has been teaching for several years and has published projects in Step by Step Wire Magazine, Bead&Button, Lapidary Journal and Art Jewelry.
Visit her website at StephanieRiger.com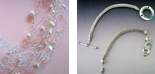 Photos are copyright Stephanie Riger and used with permission.
---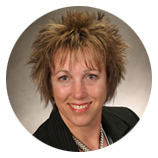 Susan C. Thomas
Chainmaille Artist, Guest Instructor

Susan C. Thomas is the author and designer for a new style of chain mail featured in her book titled Link It! Colorful Chain Mail Jewelry With Rubber O-Rings.
Susan has been an art teacher for more than two decades. Her jewelry obsession started with beadwork until she discovered chain mail. Working mainly with aluminum and o-rings, Susan manipulated the shape of the rubber rings and designed three basic elements. These elements are then cold-connected into her many original designs.
Susan has taught at the Bead and Button Show, the Puget Sound Bead Festival, bead stores, The Indianapolis Museum of Art, Art Education conferences, and libraries throughout Indiana.
Visit her website at LinkItWithJumpRings.com


Photos are copyright Susan C. Thomas and used with permission.